Our book review program is simple.
Here's how it works…Once you've signed up, a monthly reviewer offering will be emailed to you with four or five options of new, exciting books to choose from. From time to time we'll also send you fun movie, music, contest and promotional offers as well, just for being one of our 'Nuts About Books' Reviewers! You then select the book(s) you'd like to receive and honestly review on your blog.
Free books for all honest book reviewers
We'll ship your books to you, free of charge! Once you've received your requested books, you'll be given a month or so to review the title(s) on your blog.
When you request a book you agree to post a review on your blog and where possible on Canadian retailer websites (i.e. Amazon.ca, Chapters.ca, House of James, Blessings, etc.). We'd appreciate it if you'll post the url here:

Show you're nuts about books
Also, we have created a button/blogger badge for Graf-Martin Bloggers to post on your blog sidebar. Let the world know you're 'Nuts About Books' and partnering with us to spread the word about great Christian books! You can find the 200×150 button and necessary HTML code below. If you want a different size, let us know!
So, that's how it works! Thanks for your interest, and enjoy your books!
The Button: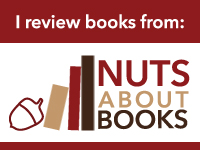 Get the code here:
<a href="http://nutsaboutbooks.ca/"><img title="I review for Nuts About Books" src="http://nutsaboutbooks.ca/wp-content/uploads/2014/01/NAB-Button.jpg" alt="I review for Nuts About Books" width="200" height="150" /></a>